Solano County CCW Webinar/Meeting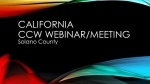 This webinar/meeting will walk you through Solano County (CCW) Carry Permit process. There is plenty of incorrect information on the internet. Come join us and get informed with the latest information.
85 percent of getting your CCW is the application process. Get off your butt and do it.
You can hear all kinds of stories about how a friend of mine was denied because he had a parking ticket. Blah blah blah. I call BULL! And when you get the facts so will you. Knowledge is power.
We will cover :
Solano County CCW application process.
State and County Fees.
What is involved in the background check.
Disqualifies.
Good Cause Statement.
Follow up support and more!
If you have been wanting to get your permit and not sure were to start or you just need a push. This seminar was made for you.
You will have the option of sharing your camera & audio during the meeting.
It is very important to use a computer and not a mobile device. It is possible to watch & listen on a mobile device but they are prone to having issues and because of limited screen size, don't offer the same experience. 
Event Information
| | |
| --- | --- |
| Event Date | 07-12-2022 7:00 pm |
| Event End Date | 07-12-2022 8:30 pm |
| Cut off date | 07-12-2022 7:15 pm |
| Instructor | Charles Dobbs |
| Location | Dobbs Firearm Training |
| Categories | Webinar |