Defensive Shooting Fundamentals - Level 1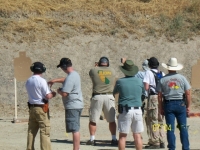 Defensive Shooting Fundamentals - Level 1 (DSF1) is a blended curriculum including a self-paced at-home eLearning module followed by a day of live fire exercises.  The class is a collaboration between Rob Pincus and the United States Concealed Carry Association.  It will guide you through the steps you will need to take to go from just sending rounds downrange to actually training in specific, tested methods of armed self-defense. You will learn the warrior expert theory and how to become proficient with your firearms to protect yourself and your loved ones. You will learn how to get your body working with your gun instead of against it, which intuitive skills work best with what the body will naturally do while under stress in a combat situation, and you will apply this information simply and effectively - regardless of skill level.
You must complete the corresponding eLearning PRIOR to attending class. (See note below)
We will start with a 1-hour classroom recap followed by LIVE-FIRE training at the range.
Upon successful completion of class, you will receive a Defensive Shooting Level 1 Certificate of Completion.
NOTE:
We will order your student packet from the USCCA, which will include your textbook, access to the eLearning portion of the class, and your training certificate. You will then receive the textbook and eLearning access information from the USCCA.  You must complete the eLearning PRIOR to attending class.  Do not wait until the last minute.  You will not be allowed to attend the class unless the eLearning is complete.
Bring your textbook AND eLearning certificate of completion to class along with all other required gear and equipment.
WHAT YOU WILL NEED:
DSF1 textbook
DSF1 eLearning certificate of completion from USCCA
Semi-automatic pistol in good reliable condition
Ammunition – 400 rounds (NO personal hand-reloaded ammo)
Extra magazines – 3 minimum
Magazine pouch – 2 minimum
Eye & Ear protection
Holster (no soft collapsible holsters requiring two hands to place the gun back inside)
Range bag
Brimmed hat
No low-cut shirts
Long pants
Thick belt
Close-toed shoes
Sunscreen
Bug spray
Water / Beverage
Pen & Notebook
State issued ID. (i.e., California Driver's license)
Good attitude for learning!